Five Rhythms in London, Surrey, West Sussex and Hampshire, UK
Forthcoming Dates
Location:Woking Surrey
Type:classes will begin again in September

Location:
Type:Southampton/Winchester area TBA

Location: MIDHURST West Sussex
Type:Summer Celebration
Next Date:14/06/2013
Location:London
Type:Summer Celebration class
Next Date:26/06/2013
Location:Petersfield Hampshire
Type:Monthly Class
Next Date:28/06/2013
Just Suppose...
People could work through their feelings by dancing; or that moving through a structure of different rhythms could loosen long held patterns; that if you were to put the psyche in motion it would heal itself" (Gabrielle Roth).
Imagine...
More creativity, awareness, intention, all seeded from breath and beat; A grounded exploration towards self realization; using movement as a meditation, finding inner fluidity, expression and spaciousness.
Gabrielle Roth's 5Rhythms® Wave is a structured movement meditation practice which follows the natural energetic flow of the body, moving from Flowing to Staccato, Chaos, Lyrical and then to Stillness.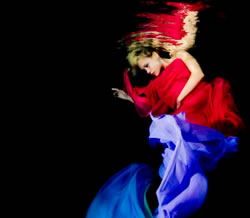 This practice awakens the dancer that lives in every body – whatever experience, limitations, age, size and shape. This is a physical practice, using the body to move the whole self into meditation. The intelligent body is instinctive, honest, passionate and amazing.
For information on my teaching click on The Teacher
For more information about Gay's 5Rhythms® monthly classes near Petersfield or Eastleigh in Hampshire, in Woking,Surrey or Midhurst, West Sussex and London please click on Forthcoming Dates