The Teacher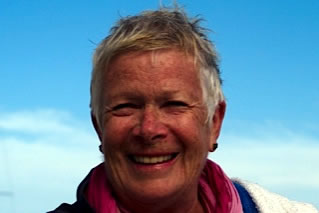 Classes are taught by Gay Murphy, accredited as a teacher by the Moving Center USA in 2001. I have recently finished my training as a teacher of "Open Floor Movement Practice". I am really enjoying teaching this modality - only in the south of England at the moment.
Who am I? A 74 year old grandmother who first found 5Rhythms® twenty five years ago. I immediately fell in love with this practice; it was as if my three year old self was reborn and with her this ability to move and dance from within. and without restraint or self consciousness. Long years of being physically tied up in knots, awkward and shy fell away as I gradually let go of the inhibitions and literally 'loosened up' in all manner of ways.
My personal history starts with growing up close to the earth on a farm; boarding school - I was expelled - after that there were some wild, scary and wonderful years living from hand to mouth in France and Spain; a stage which I call the University of Life! Marrying, becoming a wife and mother overseas, brought lots of joy with some heart stopping moments, (birth and death). Loving, living and working amongst varied communities and the managing the formalities of Diplomatic life was, on the whole a great experience. Then settling down in London and finding a path and amazing work through psychotherapy training then falling into the 5Rhythms': when I felt the ground under my feet and began to let my wings fly..... And my personal journey goes on supported by the healing power of dance.
I am now in training with the Open Floor Movement Work, and hope that I can manage to give my all to both practices - I am branching out of my own path; I am drawn by the Open Floor yet remain a passionate practitioner of the 5Rhythms. NB I have finished this training and am starting to introduce in the south of England..In my classes I try to look for simplicity as in not too much teaching; respect for each student who shows up and allows themselves be moved; courage for myself to let go and adapt my planned teaching at any time to what is going on in the room; and the confidence to listen to my instincts and to act on them. Surrounding and supporting my teaching is my passionate enthusiasm for these practices and how it touches my heart every time I teach and witness what happens on the dance floor.